How Do you Sawgrass?
We also love to see customers who are using their Sawgrass printer in an unexpected way. We want to share their stories to give you some additional inspiration!
Written by sawgrass
on June 22, 2023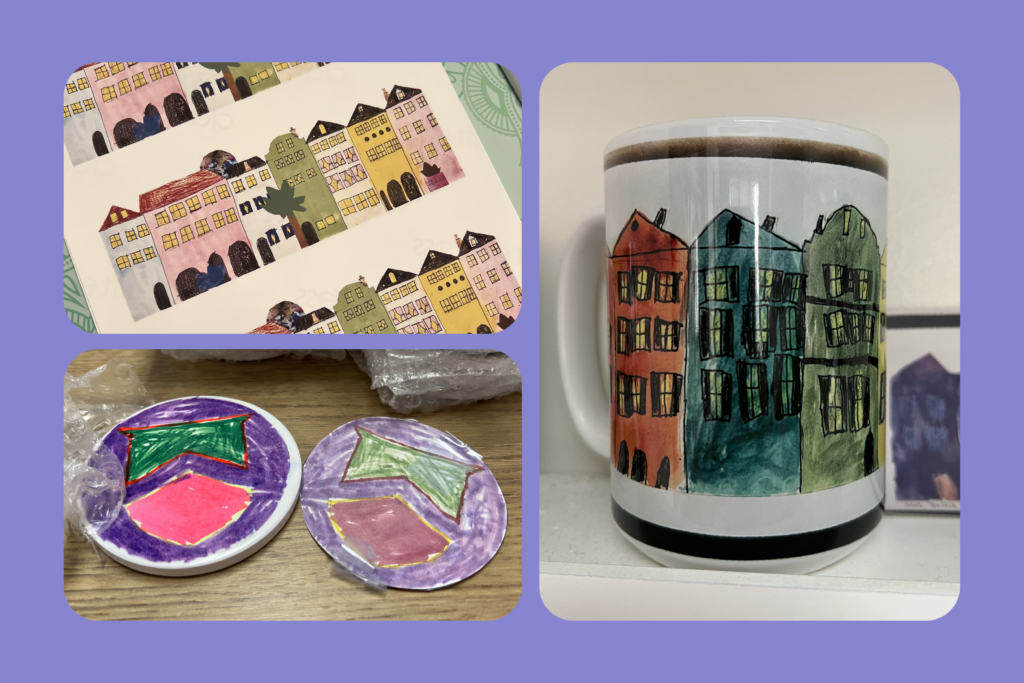 Interview with Julie Sessions
Inspirational is definitely the word we'd use to describe Julie Sessions. She is the Director of Academic Technology at Porter-Gaud, a school here in the Charleston, South Carolina. She has found some innovative ways to use sublimation in the classroom. We recently interviewed her about how she uses Sawgrass in the class.
Tell us a little about how you use sublimation in the classroom.
Sublimation is used in several different ways at our school. In our Lower School Art classes, students make products based on their artwork. First graders draw on one side of a linen make-up bag with sublimation fabric markers and then their artwork is sublimated and heat pressed on the other. They use this as a pencil pouch. Second graders make Rainbow Row mugs of their Rainbow Row artwork. Third graders make tote bags with a chosen piece of art on each side. Fourth graders use sublimation markers to make their own mug designs. All of the Lower School students made coasters with designs drawn on our school crest with sublimation markers and then heat pressed on the coaster. A couple of the grade levels make ornaments with pictures of the students in their play costumes. The Middle School Art club students make mugs from their hand-drawn designs. The Upper School student council makes t-shirts, tumblers, mugs and other items as they would like based on interest.
How did you come about the concept of using sublimation to help teach?
My role as the Director of Academic Technology is to integrate technology within the curriculum. I was looking for ways to integrate technology in the Arts and wanted to explore the concept of sublimation. We were already using the Cricut and Silhouette and we wanted something that could do more than those machines and programs. After doing some research, we decided that the Sawgrass printer got the best reviews so we purchased one. From there we did some training with Vik Patel and our teachers were hooked!
What lessons do students learn through sublimation?
Students learn patience and to be detail oriented. Often students want to rush through a drawing so they can make a product. We make sure they know this is published artwork and that this has to be their best effort. Students also learn that detail matters. When students add an outline to something they see how it makes the design look different (and often better). Students learn the scientific process of sublimation. We make sure to teach them the science behind what is happening. Students also learn that anyone can be an artist!
How do the students react to seeing their art on products?
Students love seeing their artwork come to life! There is excitement and pride in the faces of the students when they see the final product. I often expect the older students to not be as excited, but their faces light up every time they make products, too!
How has your program evolved over the last few years?
We are in the second year of our program and have plans to continue the growth of the program into the Arts in the Middle and Upper School classes. The first year was about training and pilot groups. The second year we integrated sublimation within the LS Art curriculum and now we will continue to do that with the MS and US for the next couple of years.
What's your favorite thing about using sublimation in the classroom?
The excitement when the students see the final product. They never seem to believe me when I say the marker colors will change and be more vibrant. And then their eyes light up when they see their artwork on the item…that is definitely the best part!
Is there anything new/different about sublimation that you'd like to learn but haven't?
There are two things that I would like to do with sublimation. First, I would like to have a larger printer so we can create larger products. The second thing I would like to know is how to successfully sublimate on socks. I cannot seem to figure out how to stretch them and get the design right or how to wrap around the whole sock.
What's next for you with sublimation? What other projects would you like to take on?
We are growing the amount of projects we are doing in our curriculum to include Middle School and Upper School Art classes. I need to meet with the Art teachers and see what they would like to make. We want to have a unique project each year so we will have to meet and see what would be age and grade level appropriate as well as differentiate the products made.
What piece of advice would you like to share with other sublimators?
Have a good budget! It is addicting and students and teachers are going to want to make so many products. Also, materials matter. Having the Sawgrass printer that is truly a sublimation printer, in my opinion, is better than a printer that is made to be a sublimation printer by changing the ink. The blanks that you use have to be good quality. Find a distributor (we use craftexpress.com) that you trust will provide you with quality products.