DesignMate Feature of the Month – Custom Canvas
One of the first features in our new design tool DesignMate that we hope users try out is our new Custom Canvas feature.
Written by web
on June 22, 2023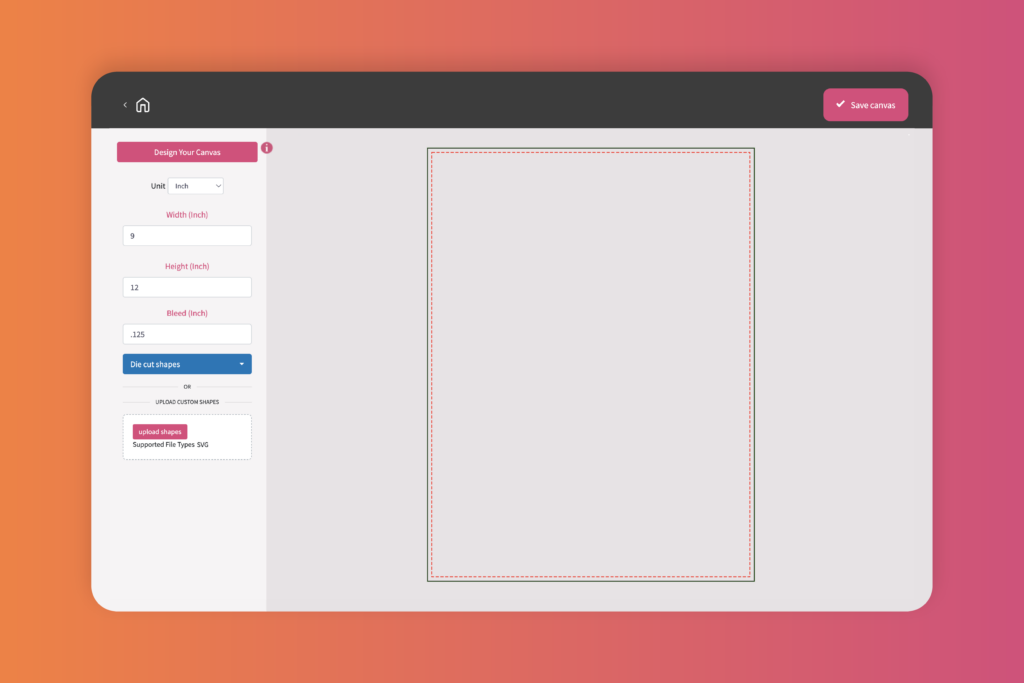 One of the first features in our new design tool DesignMate that we hope users try out is our new Custom Canvas feature. While there was a custom canvas function in our previous design tool, it had limited functionality with users being unable to save designs and be restricted to only using a square or rectangle canvas.
DesignMate features a fully functional Custom Canvas that allows saving as well as both pre-made template shapes and the ability to add your own.
Custom Canvas is going to be a useful tool for you when you just need to print on a paper size and not a specific product shape. One instance where I would take advantage of this is a t-shirt. I find it helpful to try to fill the entire paper so I can get as large of a design on the shirt as possible. The other use for Custom Canvas is when we do not already have your product added to our catalog. Instead of waiting for us to load the template, you can now create your own.
Inside of DesignMate, Custom Canvas is located at the bottom of the Select a Product screen. Clicking Open Custom Canvas takes you into the screen where you'll configure your canvas.
You can use the Unit function to choose your measurement preference. Options include inches, centimeters, millimeters, feet, pixels, and meters.
Skip dimensions and bleed for a moment and choose your shape. You can keep the default square for square or rectangle canvases or choose the shape you need. We have a variety of shapes and paper sizes already configured under Die Cut Shapes. Common shapes for sublimation blanks like heart, circle, and berlin are included. This is also where you'll find standard paper sizes like letter, legal, tabloid, A3, and A4.
If you're not seeing the shape of your product, you can upload a template of your own. A few things to remember with this; you must upload an SVG file, and it has to be a single layer. If you download a template from dealers, these files often have defined bleed areas, print areas, and sometimes other areas as well. You'll need to delete these before uploading into DesignMate. If you do not have a design program where you can save SVG files, there are several online conversion tools like Convertio.
Once you have chosen your shape, you'll set your measurements and bleed area. If you import a template, or use a preset paper size, the dimensions should be defined for you, but it is always good to doublecheck these measurements. The bleed area is useful to give you some buffer around your design area which ensures that if your print and blank are not perfectly aligned, or if your fabric stretches in the press, you are still guaranteed that your blank is fully covered with your print and you are not left with white edges. Once your canvas is ready, select Design Your Canvas at the top of the panel to start designing. Just a quick note, Save Canvas is for when your design is complete and you are ready to save and print.
One other thing we do need to point out is that custom canvas designs cannot be added to your MarketMate store. Custom canvas is specifically for things that you are creating to save and print, not for products being loaded for sale in your store. Products that can be added to the store are curated by us according to availability so that we can set an appropriate base price.
We hope that you find the Custom Canvas function to be one that you use often and works for you. If you have any suggestions about how this feature can work better, please submit feedback from the feedback portal under the lightbulb icon in the Sawgrass Exchange or open a ticket with our Care Team.