How to Make It: Angie Holden Skinny Tumbler
What's better than a skinny tumbler? A skinny tumbler featuring a 3D flower pattern!
Written by sawgrass
on September 11, 2023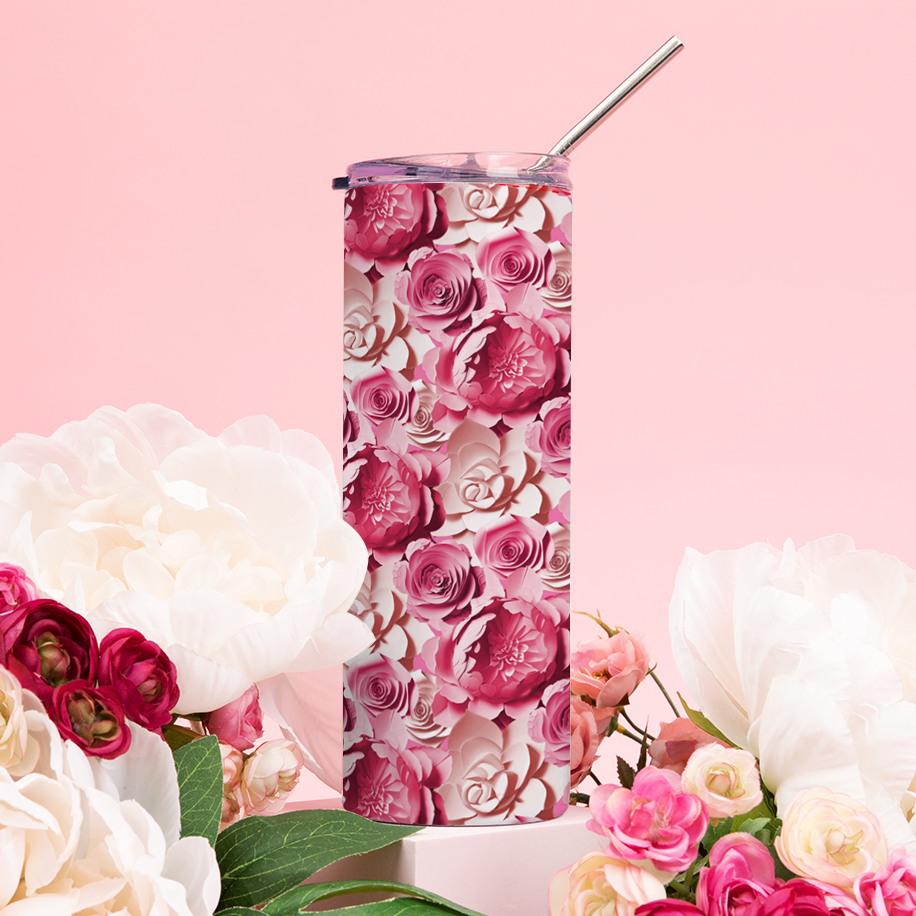 Skill Level: Expert
Tools & Supplies to Make It:
DesignMate+ Membership
Sawgrass SG500 or SG1000 Printer
Convection Oven or Tumbler Press
"8.5×11" or larger sublimation paper
20oz Skinny Tumbler
Alcohol and a lint free cloth
Heat Tape 
Shrink Wrap (if using convection oven)
How to Create It:
Log into the Sawgrass Exchange and start a new creation in DesignMate.
For your product, select the 20oz Skinny Tumbler.  It can be found under Drinkware.  
On the Create Your Design Panel, click on Designs.  Click on the filter icon and then select 3D Florals by Angie Holden and click apply.  
Choose the Pink Floral Pattern design.
The image may need to be enlarged, so use your mouse to lasso around the images and select them all as a group.  Then, use the resize icon on the group to reduce the size.  It should stay centered.
When your design is finished, hit the Continue button to move to the product details page.  
You'll be prompted to name your design, put it in a Category folder, and then then hit save.  
On the Product Detail page, you'll give the project a name and add a description, then hit print.  
How to Print It:
Make sure that you are seeing the popup to Open PrintMate and are hitting Open PrintMate.  If you are not seeing this, you'll need to disable your popup blocker.
In PrintMate, start by scrolling down and making sure  your print orientation is set to Landscape
For this project, you can use the preset Tumbler.
Make sure that the media size and type match what you have in the printer. 
On the Color Management Tab, we suggest having the Color Mode set to Vibrant.
When you've confirmed all of your settings, Hit Print.
How to Press It:
Turn your oven on and set the temperature to 385 degrees and the time to 6 minutes.  
Prepare your tumbler with a lint free cloth and alcohol to remove any fibers or fingerprints.  
Make sure to wrap the paper tightly around the tumbler.
Tape all the way down the seam and in several other spots.
Place the skinny tumbler in a shrink wrap bag and use a heat gun to tighten it.
Place the tumbler in the convection oven and close the door.  
When pressing is complete, remove and immediately remove shrink wrap and tape.
Tips & Tricks:
Tape up one short side of the paper helps with the seam
Remove the shrink wrap, tape, and paper as soon as possible, this is easier to do when the product is warm.
You can do this in a tumbler press as well, we recommend 380 Degrees Fahrenheit for 80 seconds total.  Press for forty seconds, then open the press and turn the tumbler before going for another forty seconds.