How to Make It: Halloween Pet Scarf
This Halloween scarf will be the bark of the town for any stylish dog on the street.
Written by sawgrass
on September 1, 2023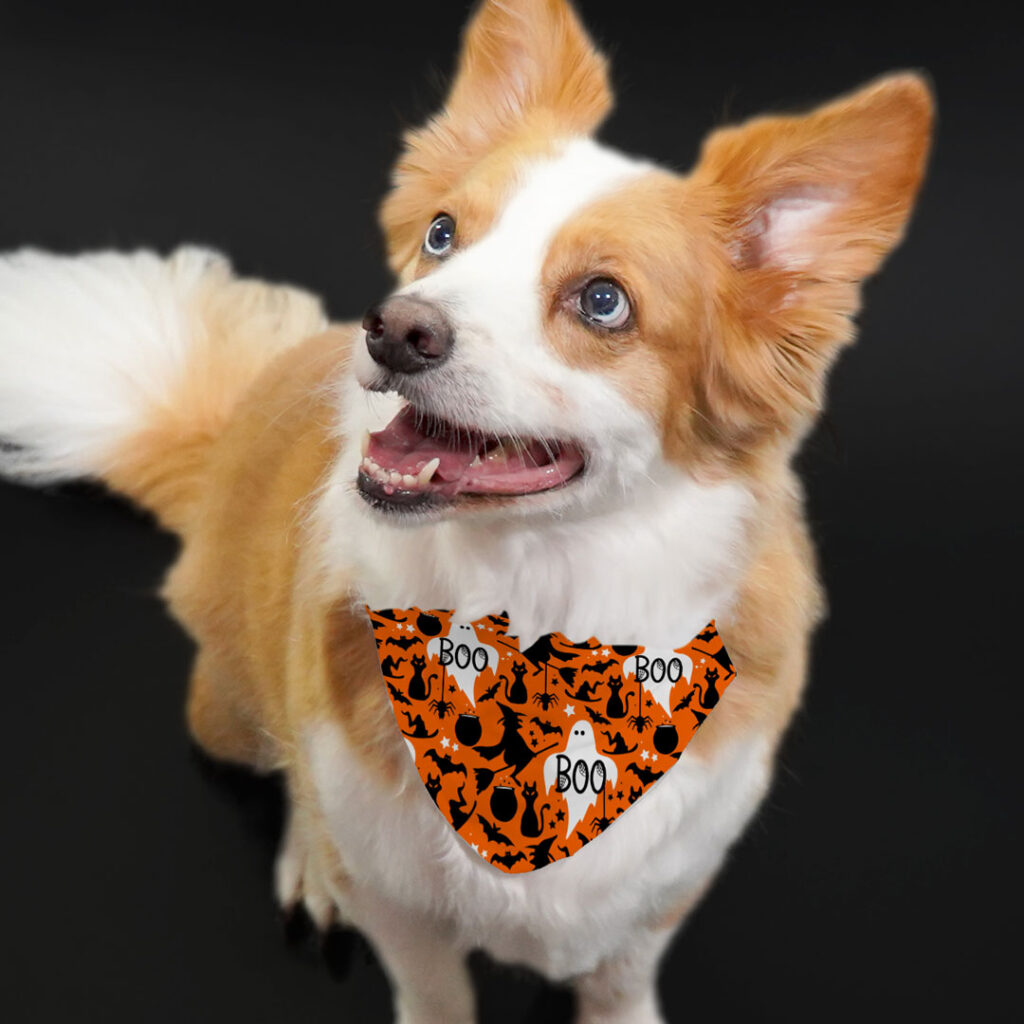 Skill Level: Beginner
Tools & Supplies To Make It:  
DesignMate+ Membership  
Sawgrass SG 1000 
15"x15" Heat Press or larger 
11"x17" sublimation paper or larger
Dog Bandana
Lint Roller 
Heat Tape  
Blowout paper  
How to Create It:
Once you are logged into DesignMate start a New Creation. 
In the "Blank Products" tab in DesignMate click on the "Pet" icon, then click on "Pet Scarf" and choose your size.  
Click on "Apply" to continue 
Go to the "Elements" tab and click on the "Backgrounds" tab.  
Go to Patterns and search "Ghost."   
Select the pattern and click "Done." 
Scroll down to select fit on the left panel and move the "size" slider to fill the area to your preference and select "Done."  
Here you can change background color, add a name or simply continue to print. 
Once you are happy with the design, choose "CONTINUE" from the top right panel.   
Give your design a name and add it to a category and click "Save."  
Here, you can choose to add a description about your design or product and add it to your MarketMates store or continue to print. 
How To Print It:
Click on the "Print" Icon at the top right this will open PrintMate. 
In PrintMate, the printer should be set on the Sawgrass SG 1000. 
Select the preset to "Polyester T-Shirts" 
Select paper size: "US Letter"  
Change Print Orientation to "Landscape" if your design is running off the page. 
Under the Color Management tab select "Vibrant" for the Color Mode. 
Click Print. 
How to Press It:
Turn on and set your heat press to 400F and your time to 45 Seconds. 
Run a lint roller over the pet scarf to remove any dust or fibers before sublimating. 
Place your design face down and center on the sign, tape down the printed design with heat tape on both sides. 
Place the bandana on the lower heat plate and cover the printed design with blowout paper and press for 45 seconds. 
Lift top plate and remove the printed design.  Be careful, your design will be hot! 
Peel + Enjoy! Happy Halloween! 
Tips & Tricks:
Tear your design instead of cutting to reduce any unwanted press lines. You can also leave your paper larger than your bandana. 
Add your pet's name for fun customization.