How to Make It: Sequin Surprise Patch
This treat bag will be one you'll want to use for the entire month of October! It features a sublimated name and sequin patch.
Written by sawgrass
on September 1, 2023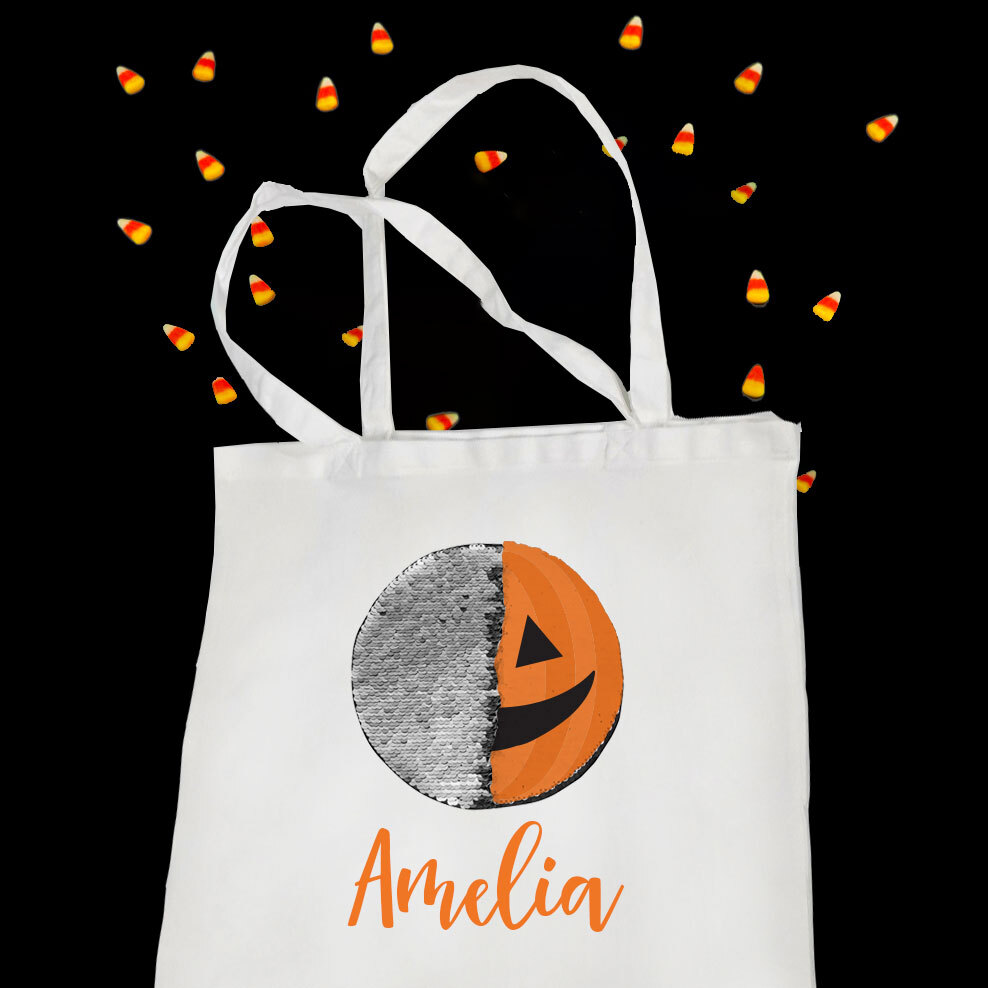 Skill Level: Intermediate
Tools & Supplies To Make It:  
DesignMate+ Membership  
Sawgrass SG 1000 
15"x15" Heat Press or larger 
11"x17" sublimation paper or larger
Glitter Patch
Canvas Tote Bag 
Lint Roller 
Heat Tape  
Blowout paper  
Ruler 
How to Create It:
Once you are logged in go to the "Open Custom Canvas" tab in DesignMate and click on the "Die cut shapes" Icon then select the circle.  
Input your measurements in the correct units and then select "Design Your Canvas." 
Go to "Designs" and filter to "Halloween." 
Scroll until you find the "Cutest Pumpkin in the Patch" design. 
Select the text and delete, repeat for each word. 
Select and delete the greenery layer. 
Click and drag to select the pumpkin and face later. Resize to your patch. You can also resize one layer at a time. Select "layers" on the right side to expose different layers. 
Normally, we would suggest adding a background color.  Since this is sequins, it is fine to leave the background white to emphasize the design. 
Once you are done, choose "CONTINUE" from the top right panel.   
Give your design a name and add it to a category and click "Save."  
Here, you can choose to add a description about your design or product and add it to your MarketMates store or continue to print. 
How To Print It:
Click on the "Print" Icon at the top right which will open PrintMate. 
The printer should be set on the Sawgrass SG 1000.
Select the preset for "Metal." 
Paper size "US Letter,"  
Keep the Print Orientation to "Portrait."  
Under the Color Management tab, select "Vibrant" for the Color Mode.   
Click Print.  
How to Press It:
Turn on and set your heat press to 400F and your time to 45 Seconds. 
Make sure that all sequins have the white side up.   
If there are fingerprints on the sequins, you can wipe those away with a lint free cloth and alcohol.   
Remove the backing from the patch and adhere to your garment. 
Place your design face down and center on the patch, tape down the printed design with heat tape. 
Place the tote on the lower heat plate and cover the printed design with blowout paper and press for 45 seconds. 
Slowly lift top plate and quickly remove the printed design.   
Tips & Tricks:
If adding a name to the tote, make sure to have your custom name already pressed and cooled before sublimating the glitter patch on. 
You can find your patch measurements on the packaging.