How to Make It: Día de Los Muertos
This 20oz skinny tumbler features popular Día de Los Muertos imagery.
Written by sawgrass
on September 1, 2023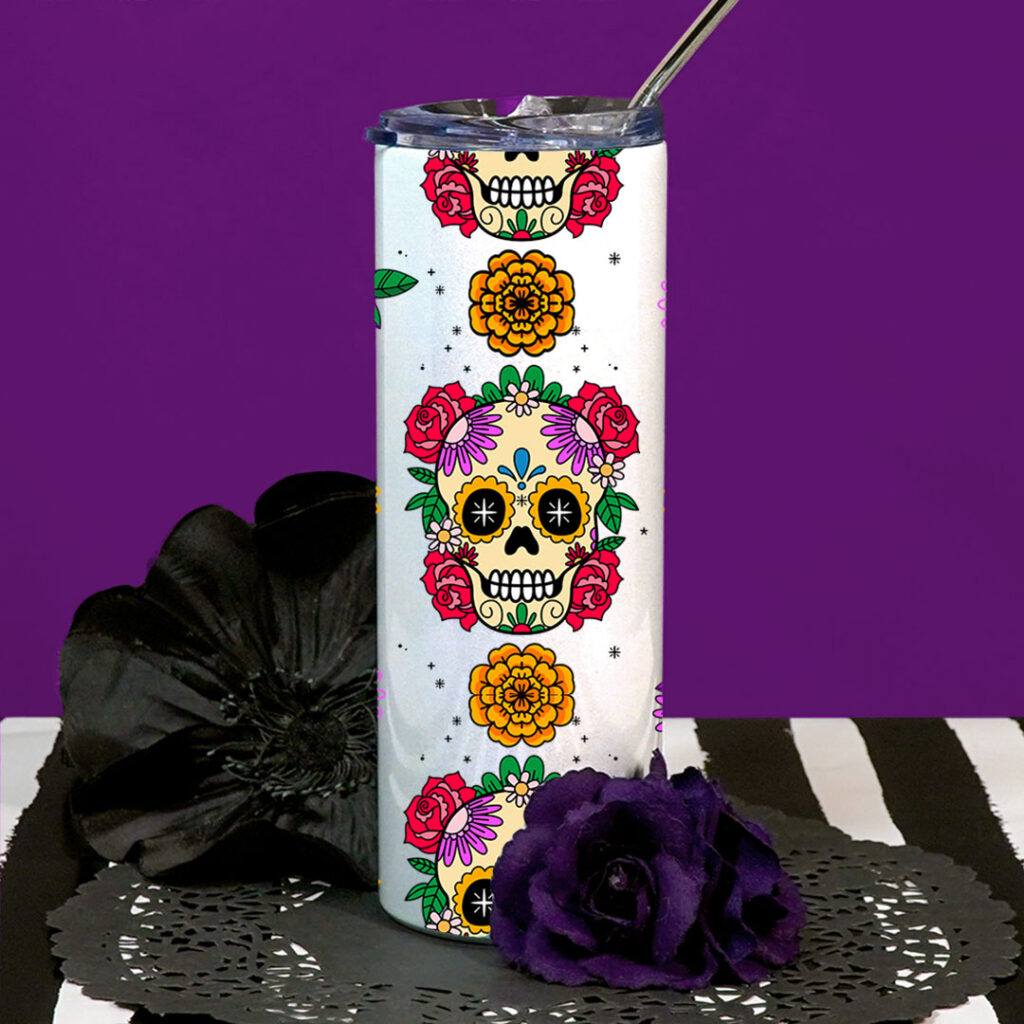 Skill Level: Intermediate
Tools & Supplies To Make It:  
DesignMate Plus Membership  
Sawgrass SG 500 or 1000 
Tumbler or Mug Press with 20 oz skinny tumbler attachment 
8.5"x11" sublimation paper  
20 oz Skinny tumbler 
Heat Tape  
Blowout paper  

How to Create It:
Once you are logged in, start a New Creation. 
In the "Blank Products" window in DesignMate click on the "Drinkware" Icon then scroll down and click on "20oz Stainless Steel Skinny Tumbler." Click on "Apply" to continue 
Go to the "Designs" tab and click on the "Dia De Los Muertos" folder.  Select the Sugar Skull DesignMate Plus pattern.  
Click on the design to "select all" and resize the design on the tumbler.  Then click outside of the design to deselect. 
You may need to move, expand, or duplicate the design to get the best fit in the area.   
Once you are done, choose "CONTINUE" from the top right panel.   
Give your design a name and add it to a category. Then click "Save"  
Add a description about your design or product.  
Now we are ready to print, click on the "Print" Icon at the top right.
 How To Print It:
Click on the "Print" Icon at the top right this will open PrintMate. 
The printer should be set on the Sawgrass SG 1000.
Select the preset for "Tumbler."
Set your paper size to "US Letter."
Change Print Orientation to "Landscape." 
Under the Color Management tab, select "Vibrant" for the Color Mode.
Click on Print.  
How to Press It:
Turn on and set your tumbler heat press to 365F and your time to 60 Seconds. 
Place your design face down and center on the sign, tape down the printed design with heat tape on all sides. 
Since this design is a full wrap, you need to rotate during pressing.  Place it in the press and press for 60 seconds the rotate and press for another 60 seconds 
Slowly open the tumbler press and quickly remove the printed design.
Tips & Tricks:
Wipe your tumbler off with an alcohol wipe or alcohol on a lint free cloth to remove fingerprints and dust before pressing. 
Make sure to rotate the tumbler at least 45 degrees after the first sixty seconds to get an even result on a full wrap design.